Optimising your web pages is all about providing the best possible 'experience' for your visitors when they visit your site. Some of the pages on your website are more important than others - but do you know which ones they are?
It may sound fairly obvious – but it's amazing how many website owners fail to optimise their websites to improve the conversion of their web visitors to leads.
Focusing on your most important pages and making a few critical changes will have the potential to improve your site performance dramatically. Every website is different, but generally speaking, there are four pages that are the most important (and most-visited):
Home Page
About Us Page
Your Blog
Contact Us Page
Tips for optimising each page:
It's easy to overlook the broader, big-picture idea whilst pursuing your SEO rankings, but it's really important to ensure that your website is optimised for the user. You can do that by asking yourself two questions:
Question 1: What is the user looking for?
Question 2: What is my goal for the user?
Here are a few, more specific tips to help you on your way to optimising each of the four most important pages.
1) Home Page
Use a big headline, and place the most important information front and centre.
Provide flow.

Make it obvious where the user is supposed to go and what they are supposed to do next.
Make your CTA as big and obvious as possible.

A home page may allow for several different CTAs -- make it easy for the user to choose by making CTA buttons large and easy to click. Often, a user uses the home page as a way of finding where on the site they want to go. For this reason, you should make the navigation menu very clear.
2) About Page
Deliver the most important and relevant information above the fold.

The user is on your About page for a reason -- answer their question(s) without making them scroll.
Include at least one CTA.

Remember, most people aren't just looking for more information; they're seeking a deeper level of engagement.
3) Blog
Organise information on your blog clearly,

and make sure that information satisfies the reasons users might be on your blog. Most users will want to read the most recent articles, so provide these. You may also want to organise categories on the blog home page, such as "most recent," "most popular," or other forms of categorisation.
Include CTAs

that make it easy for the user to subscribe to the blog, download a free resource, and so on. Even though the user came to get information, you want them to get engaged and connected.
Provide CTAs in the core design of your blog

so they appear on each individual blog post. In our experience,

most blog visitors land on individual blog articles through organic search

, instead of landing on your blog's "home" page. To get these users engaged, put CTAs on the sidebars, in the footer, and other places.
4) Contact Us Page
Put the information they're looking for above the fold

-- an email address, phone number, contact form, map, mailing address, and so on. Of all four of these webpages, the Contact Us page implies the most detailed level of intent on the part of the user.
Use CTAs that allow the user to contact you easily

(since, presumably, that's why they came to your Contact Us page). Make the CTA really obvious, and engage them by gratifying their intent instantly, using CTA copy like "Chat now!" "Email now!".
In conclusion, here's how to optimize pages like a pro: Look at your most visited pages, figure out why users are there, give them what they want, and ask them for an action in return. Regardless of your most-visited pages or even the nature of your website, you can create more engaged users.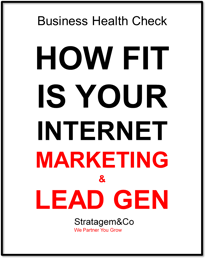 At Stratagem&Co, we believe that being able to quickly assess and evaluate the 'health' of your sales and marketing pipeline is a key component to you achieving and sustaining your growth. That's why we've created high quality business health check tools to help you to receive the expert advice you need to achieve your business goals in an affordable and easily accesible way.
How does it work
When you sign-up for a Stratagem&Co Internet marketing Business Health-check you will receive:
A web link to a detailed online questionnaire - written by a member our panel of subject matter experts.

Once you have completed the questionnaire, you will instantly receive an overall 'health-score' for the questionnaire that you have completed.

Shortly afterwards, based on the answers you have in the questionnaire, you will receive a detailed and far-ranging report, again, written by one of our industry experts, that will help you to diagnose the issues that you have in your business and provide you with advice and links to additional resources to help you resolve the challenges that you are facing.

Within 48 hours of completing the questionnaire, you will receive a call from a Stratagem&Co Partner to arrange your follow-up Health-check Consultation.
During the Consultation you will be able to discuss and explore any issues that have arisen in the report and address any questions that you may have.
If any follow-up actions are identified, your Stratagem&Co Partner will then work with you on an individual basis to help you to resolve any further issues that you may have and develop bespoke solutions for you that closely fit your business needs and resolve your challenges.
However we support you, the focus for us is to help you to identify and resolve the blockers that are stopping you from getting you to where you want to go – then it's our promise to deliver a bespoke solution that fits around you and your organisation to drive your business growth.


To discuss the topics raised in Mark's blog, or to ask any questions, please complete the form below and leave your comments.