Getting wide engagement from your teams in terms of creating blog content has numerous benefits. Here are just five that you may not have noticed:
Regular blogging requires your team to continually think about the issues that your clients are facing. As a pre-requisite, your team will need to listen carefully to what your customers are saying about your business are therefore stay 'tuned-in' to what they will need to do to meet your customers' needs.


Regular blogging helps each team member to become recognised as a 'thought leader', no matter what their position in the company is. This will help them to improve their satisfaction at work and improve their engagement with your customers.


It builds a team-driven solution, and not a personality-driven company. If all of your team are blogging, this will get noticed by your customers…..and the reputation of your business will improve as a result.


It helps you to hire better people – why not ask candidates to write a blog post as part of the recruitment process. This will help you asses their knowledge about your business and identify their willingness to create blogs in the future as part of their role?


It enables you to build a vital knowledge resource pool that your business can use to draw potential new clients to your business. If you are abe to demonstrate that you understand your potential client's needs and can empathise with the problems that they are facing, then they are more likely to want to do business with you.

Research by Husbpot, the world leading in-bound marketing provider has found that regular blogging will significantly enhance traffic to your web-site, so why not mobilise your internal 'knowledge pool' to realise that potential.

Knowing how frequently to blog, and encouraging your team to do so is just one aspect of a successful inbound Marketing effort - so do you know what good looks like in terms of your inbound marketing?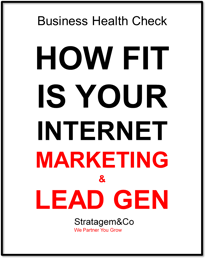 At Stratagem&Co, we believe that being able to quickly assess and evaluate the 'health' of your sales and marketing pipeline is a key component to you achieving and sustaining your growth. That's why we've created high quality business health check tools to help you to receive the expert advice you need to achieve your business goals in an affordable and easily accesible way.
How does it work
When you sign-up for a Stratagem&Co Internet marketing Business Health-check you will receive:
A web link to a detailed online questionnaire - written by a member our panel of subject matter experts.

Once you have completed the questionnaire, you will instantly receive an overall 'health-score' for the questionnaire that you have completed.

Shortly afterwards, based on the answers you have in the questionnaire, you will receive a detailed and far-ranging report, again, written by one of our industry experts, that will help you to diagnose the issues that you have in your business and provide you with advice and links to additional resources to help you resolve the challenges that you are facing.

Within 48 hours of completing the questionnaire, you will receive a call from a Stratagem&Co Partner to arrange your follow-up Health-check Consultation.
During the Consultation you will be able to discuss and explore any issues that have arisen in the report and address any questions that you may have.
If any follow-up actions are identified, your Stratagem&Co Partner will then work with you on an individual basis to help you to resolve any further issues that you may have and develop bespoke solutions for you that closely fit your business needs and resolve your challenges.
However we support you, the focus for us is to help you to identify and resolve the blockers that are stopping you from getting you to where you want to go – then it's our promise to deliver a bespoke solution that fits around you and your organisation to drive your business growth.


To discuss the topics raised in Mark's blog, or to ask any questions, please complete the form below and leave your comments.